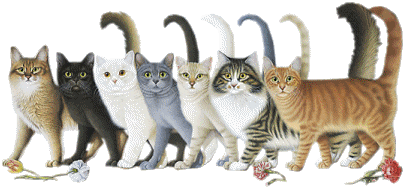 FICHE DE RACE
SHEETS BREEDS
ILLUSTRATIONS : CLIQUEZ ICI
TEXTE FRANCAIS : CLIQUEZ ICI
ENGLISH VERSION : CLICK HERE
STANDARDS DE RACE DE DIFFERENTES FEDERATIONS
BREED STANDARDS OF DIFFERENT FEDERATIONS
PHOTOS / PICTURES / ILLUSTRATIONS
le SOMALI, le chat à l'apparence du renard

the SOMALI the cat with the appearance of the fox

somali_femelle

somali_femelle_sorrel

somali_femelle_sorrel

somali_male_faon

somali_male_faon

somali_male_faon

somali_male_faon

somali_male_silver_sorrel

somali_male_silver_sorrel
Un tout grand merci aux éleveurs qui m'ont envoyés et permis d'afficher sur ce site leurs propres photos de chats de race provenant de leurs chatteries.

Ces photos ne peuvent en aucun cas être copiées et ni utilisées sans l'accord expresse et écrit de l'éleveur.

A big thank to all the breeders who sent me and allowed to post on this site their own photos breed cats from their omn catteries.

These photos can not in any case be copied nor used without the express written consent of the breeder.

NOM

SOMALI

TAILLE

Sa corpulence est moyenne et musclée. Son apparence est élégante et harmonieuse.

POIDS

mâle de 3,5 à 4,5 kg, femelle de 3 à 3,5 kg

ORIGINE

indéfinie

CARACTERE

Intelligent, actif, agile, gracieux et souple. Plein de vie et relativement curieux de tout. Le somali est plus calme que son cousin abyssin, il possède un caractère plus posé.

en sa COMPAGNIE

proche du maître, il n'apprécie pas la solitude. Il participe à toutes les activités. Compagnon doux et affectueux. Cet atlète, chasseur à ses heures, a besoin d'exercice et donc d'espace. En cas de possibilité de sortir, un jardin cloturé est vivement souhaitable.

CARACTERISTIQUES

Malgré une palette de couleurs étendue, le motif de la robe reste toujours « tiqueté » (ticked tabby). La réflexion de la lumière fait paraitre le pelage uni. Miaulement discret.

Le somali est la variété à poils mi-longs de l'abyssin.

ROBES : couleurs

La robe est fine, dense, soyeuse et douce. Les couleurs les plus fréquentes : Lièvre ; Bleu ; Sorrel ; Faon ; Red ; Silver ; ....

YEUX : couleurs

Grands, en amande, brillants, expressifs, d'une couleur pure intense : jaune (or), vert, ambre.
Retour vers haut de page / Return to the top of the page

NAME

SOMALI

SIZE

His size is average and muscular. Its appearance is elegant and harmonious.

WEIGHT

male 3.5 to 4.5 kg female from 3 to 3.5 kg

ORIGIN

undefined

CHARACTER

Intelligent, active, agile, graceful and supple. Full of life and relatively curious about everything. Somali is quieter than its cousin Abyssinian, it has a calmer character.

CARACTERISTICS

close to the master, he does not like loneliness. He participates in all activities. Gentle and loving companion. This ATLETE hunter at times, needs exercise and therefore space. If possible get a fenced garden is highly desirable.

Despite an extended color palette, pattern of the dress is always "ticked" (ticked tabby). The reflection of light makes appear united coat. Meow discreet.

Somali is the variety to medium-length hair of the Abyssinian.

COAT : colours

The dress is fine, dense, silky and soft. The most common colors: Hare; blue; Sorrel; fawn; red; Silver ; ....

EYES : colours

Large, almond shaped, bright, expressive, intense pure color: yellow (gold), green, amber.

STANDARDS DE RACE DE DIFFERENTES FEDERATIONS
BREED STANDARDS OF DIFFERENT FEDERATIONS
STANDARD LOOF ( France ) :
STANDARD NOK ( Pays-Bas, Nederlands ) :

cliquez ici / click here
STANDARD WCF :

cliquez ici /

click here /

klicken Sie hier
STANDARD TICA :



(choice your language on left top on the their web page) :
STANDARD FIFE :



cliquez ici / click here / klicken Sie hier
RETOUR MENU DES RACES : cliquez ici
Retour vers haut de page / Return to the top of the page
WebMaster & CatLover : jean-luc roffredo