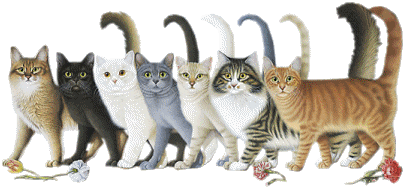 FICHE DE RACE
SHEETS BREEDS
ILLUSTRATIONS : CLIQUEZ ICI
TEXTE FRANCAIS : CLIQUEZ ICI
ENGLISH VERSION : CLICK HERE
STANDARDS DE RACE DE DIFFERENTES FEDERATIONS
BREED STANDARDS OF DIFFERENT FEDERATIONS
PHOTOS / PICTURES / ILLUSTRATIONS
le SIBERIEN, la fierté russe

the SIBERIAN, Russian pride

photos prochainement

pictures soon
Un tout grand merci aux éleveurs qui m'ont envoyés et permis d'afficher sur ce site leurs propres photos de chats de race provenant de leurs chatteries.

Ces photos ne peuvent en aucun cas être copiées et ni utilisées sans l'accord expresse et écrit de l'éleveur.

A big thank to all the breeders who sent me and allowed to post on this site their own photos breed cats from their omn catteries.

These photos can not in any case be copied nor used without the express written consent of the breeder.

NOM

SIBERIEN

NEVA MASQUERADE

: Sibérien à la robe colour point.

TAILLE

Très grand, compact, massif et lourd. Il dégage une impression de force avec sa musculature développée.

POIDS

Mâle : de 6 à 10 kg ; femelle : de 3,5 à 7 kg

ORIGINE

Russie, Ukraine

CARACTERE

Le sibérien est une force tranquille, mais pouvant être très actif et énergique. Il a une forte personnalité. Il est solide, robuste et agile. C'est un chat câlin à la voix douce.

CARACTERISTIQUES

Il s'entend bien avec d'autres chats et est très attaché à son propriétaire. Le sibérien s'adapte à la vie en appartement à partir du moment où il bénéficie de l'attention de son maître. Il est sociable avec ses congénères et aime les enfants. Sa fourrure montrera tout son éclat si le chat jouit d'un accès à l'extérieur.

Ce chat de grande taille est caractérisé par sa robe à poils mi-longs à longs et sa silhouette "en tonneau", c'est-à-dire assez rond. Il possède une collerette et beaucoup de sous-poil.

Au printemps, le sibérien perd son épaisse fourrure d'hiver pour celle d'été beaucoup moins fournie.

Le sibérien est plus trapu que le maine coon et possède une tête plus ronde que celle du norvégien.

ROBES : couleurs

Poils longs sur le ventre, légèrement plus courts sur les épaules et une partie de la poitrine. Le sibérien possède une colerette longue et fournie. Toutes les couleurs de robe sont admises, sauf le chocolat, le lilas, le cinnamon et le faon.

YEUX : couleurs

Les yeux sont grands, bien séparés, presque ronds, placés légèrement en oblique. Leur couleur : vert à jaune, . aucune relation avec la couleur de la robe. Mais unqiement le bleu pour les colour point.
Retour vers haut de page / Return to the top of the page

NAME

SIBERIAN

NEVA MASQUERADE : Siberian in the color point coat.

SIZE

Very large, compact, solid and heavy. It exudes strength with his muscles developed.

WEIGHT

Male: from 6 to 10 kg; female: 3.5 to 7 kg

ORIGINE

Russia, Ukraine

CHARACTER

The Siberian is a quiet force, but can be very active and energetic. He has a strong personality. It is strong, tough and agile. It is a cuddly cat with soft voice.

CARACTERISTICS

He gets along well with other cats and is very attached to his owner. Siberian fits apartment life from the moment he gets the attention of his master. It is sociable with other dogs and loves children. His fur will show all its brilliance if the cat has access to outdoors.

This large cat is characterized by its half-dress long hair long and her figure "barrel", that is to say, quite round. It has a collar and a lot of undercoat.

In spring, the Siberian loses its thick winter fur for the summer much less provided.

Siberian is stockier than Maine Coon and has a rounder head than the Norwegian.

COAT : colours

Long hair on the abdomen, slightly shorter on the shoulders and part of the chest. The Siberian has a long and provided rim. All coat colors are allowed, except chocolate, lilac, cinnamon and fawn.

EYES : colours

The eyes are large, well separated, almost round, set slightly oblique. Color: yellow to green. no relation to coat color. But only blue for color point.

STANDARDS DE RACE DE DIFFERENTES FEDERATIONS
BREED STANDARDS OF DIFFERENT FEDERATIONS
STANDARD LOOF ( France ) :
STANDARD NOK ( Pays-Bas, Nederlands ) :

cliquez ici / click here
STANDARD WCF :

cliquez ici /

click here /

klicken Sie hier
STANDARD TICA :



(choice your language on left top on the their web page) :
STANDARD FIFE :



cliquez ici / click here / klicken Sie hier
RETOUR MENU DES RACES : cliquez ici
Retour vers haut de page / Return to the top of the page
WebMaster & CatLover : jean-luc roffredo