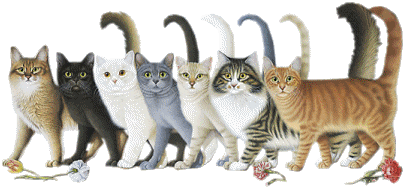 FICHE DE RACE
SHEETS BREEDS
ILLUSTRATIONS : CLIQUEZ ICI
TEXTE FRANCAIS : CLIQUEZ ICI
ENGLISH VERSION : CLICK HERE
STANDARDS DE RACE DE DIFFERENTES FEDERATIONS
BREED STANDARDS OF DIFFERENT FEDERATIONS
PHOTOS / PICTURES / ILLUSTRATIONS
le NORVEGIEN, une beauté venue du froid

NORWEGIAN a beauty comming from the cold

NORVEGIEN , mâle, bleu et blanc

NORVEGIEN , femelle, black silver torbie et blanc
Un tout grand merci aux éleveurs qui m'ont envoyés et permis d'afficher sur ce site leurs propres photos de chats de race provenant de leurs chatteries.

Ces photos ne peuvent en aucun cas être copiées et ni utilisées sans l'accord expresse et écrit de l'éleveur.

A big thank to all the breeders who sent me and allowed to post on this site their own photos breed cats from their omn catteries.

These photos can not in any case be copied nor used without the express written consent of the breeder.

NOM

NORVEGIEN,

chat des forêts norvégiennes ou skogkatt

ORIGINE

Norvège

CARACTERISTIQUES

Chat de type long et puissant. Il est grand et solidement bâti avec une forte ossature. La taille est moyenne à grande. Le corps est allongé, solidement bati.

Le poids va jusqu'à 8 kg pour les mâles et 5 kg pour les femelles

C'est un chat à poils mi-longs. Le profil doit être parfaitement rectiligne et sans stop.

Le pelage est une caractéristique importante, il doit être double, constitué d'un sous-poil laineux recouvert d'un poil de couverture mi-long, retombant sur les flancs, luisant et imperméable à l'eau. Le poil de couverture forme une collerette fournie sur la gorge ainsi que des "culottes" : poils plus longs sur les pattes arrières.

Toutes les couleurs de robe sont admises, sauf le chocolat, le lilas, le colour point, le cinnamon et le faon, ainsi que le patron burmese.

Les yeux sont grands, placés légèrement en oblique. Toutes les couleurs sont admises. Cependant, leurs meilleures couleurs sont le vert et l'or.

CARACTERE

Le norvégien est un chat rustique. Il est très sûr de lui et très posé. Très sociable, attaché à ses maîtres et d'un caractère facile. Il s'entend bien avec ses congénères, les chiens et les enfants. Le norvégien possède une grande souplesse de mouvement, c'est un grimpeur averti. Il est un redoutable chasseur.

Un arbre à chat est suffisant pour ses "exercices" en cas de vie à l'intérieur car il s'adapte bien en appartement, et surtout sous l'attention de ses maîtres. Mais un vaste jardin (sécurisé) est souhaitable d'autant que sa fourrure est plus belle quand il vit en plein air. Le norvégien nécessite un brossage hebdomadaire, augmenté en période de mue. Sa voix est douce.
Retour vers haut de page / Return to the top of the page

NAME

NORVEGIAN,

Norwegian Forest Cat or skogkatt

ORIGIN

Norway

CARACTERISTICS

Cat type long and powerful. He is tall and heavily built with strong bones. The size is medium to large. The body is elongated, solidly bati.

The weight is up to 8 kg for males and 5 kg for females

It is a cat with medium-length hair. The profile must be perfectly straight and without stop.

The coat is an important feature, it must be twofold, consisting of a woolly undercoat covered with semi-long hair coverage, falling on the sides, shiny and waterproof. The outer coat forms a collar provided on the throat and the "pants": longer hairs on the hind legs.

All coat colors are allowed, except chocolate, lilac point the color, the cinnamon and fawn, and the burmese boss.

The eyes are large, set slightly oblique. All colors are allowed. However, their best colors are green and gold.

CHARACTER

Norwegian is a rustic cat. He is very confident and very calm. Very sociable, devoted to his owners and easy character. He gets along well with other dogs, dogs and children. The Norwegian has great flexibility of movement is an experienced climber. It is a formidable hunter.

A cat tree is enough for his "exercises" in the event of life inside as it adapts well in an apartment, and especially under the attention of his teachers. But a large garden (secured) is desirable especially as his fur is more beautiful when he saw outside. The Norwegian requires weekly brushing, increased moulting. His voice is soft.

STANDARDS DE RACE DE DIFFERENTES FEDERATIONS
BREED STANDARDS OF DIFFERENT FEDERATIONS
STANDARD LOOF ( France ) :
STANDARD NOK ( Pays-Bas, Nederlands ) :

cliquez ici / click here
STANDARD WCF :

cliquez ici /

click here /

klicken Sie hier
STANDARD TICA :



(choice your language on left top on the their web page) :
STANDARD FIFE :



cliquez ici / click here / klicken Sie hier
RETOUR MENU DES RACES : cliquez ici
Retour vers haut de page / Return to the top of the page
WebMaster & CatLover : jean-luc roffredo