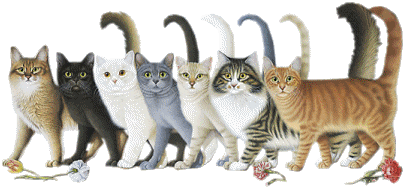 FICHE DE RACE
SHEETS BREEDS
ILLUSTRATIONS : CLIQUEZ ICI
TEXTE FRANCAIS : CLIQUEZ ICI
ENGLISH VERSION : CLICK HERE
STANDARDS DE RACE DE DIFFERENTES FEDERATIONS
BREED STANDARDS OF DIFFERENT FEDERATIONS
PHOTOS / PICTURES / ILLUSTRATIONS
le MAU EGYPTIEN, chat des pharaons

EGYPTIAN MAU, cat of the Pharaohs

MAUEGYPTIEN_blacksmoke

MAUEGYPTIEN_silver

MAUEGYPTIEN_bronze

MAUEGYPTIEN_noir

photos prochainement

pictures soon
Un tout grand merci aux éleveurs qui m'ont envoyés et permis d'afficher sur ce site leurs propres photos de chats de race provenant de leurs chatteries.

Ces photos ne peuvent en aucun cas être copiées et ni utilisées sans l'accord expresse et écrit de l'éleveur.

A big thank to all the breeders who sent me and allowed to post on this site their own photos breed cats from their omn catteries.

These photos can not in any case be copied nor used without the express written consent of the breeder.

NOM

mau signifie "chat" en égyptien

TAILLE

Le corps, de taille moyenne, doit paraître à la fois puissant, élégant et gracieux. La musculature est développée, particulièrement chez les mâles. Une sorte de poche ventrale que l'on appelle « gousset » doit être présente.

POIDS

ORIGINE

CARACTERE

Le mau égyptien est indépendant et intelligent tout en étant modérément actif. Il est vif et joueur. Ce n'est pas un chat nerveux ni agressif.

en sa COMPAGNIE

Chat proche de son maître, il réclame de l'attention et peut être distant avec les étrangers. Il est sociable avec ses congénères. C'est un bon chasseur. Il a besoin de faire de l'exercice pour garder un caractère équilibré. Un jardin (sécurisé) peut lui permettre de se dépenser. Si ce n'est le cas, un arbre à chat intérieur peut absolument faire l'affaire. Car c'est un chat qui peut vivre en appartement sous condition qu'on s'occupe de lui. Son miaulement est doux et agréable. Il déteste la solitude.

CARACTERISTIQUES

Le Mau Egyptien est la seule race de chat domestique naturellement tachetée : taches de taille et de forme variables, disposées de manière aléatoire sur tout le corps et formant sur le ventre deux rangées de « boutons de gilet ».

ROBES : couleurs

La robe est fine et soyeuse. Des rayures se dessinent aux extrémités. Un "M" apparait sur le front.

Quatre couleurs sont acceptées : le silver, (gris argent tacheté de noir); le bronze (marron clair tacheté de brun foncé à noir); le black smoke (noir aux taches fantômes avec des reflets argent) et enfin le noir où les marques « fantômes», noires sur un fond noir, sont parfois visibles sous certains éclairages.

YEUX : couleurs

Les yeux sont grands, en amande et placés légèrement en biais. Les couleurs possibles sont : vert clair, vert groseille à maquereau. Une couleur ambre est permise pour les jeunes de moins de 18 mois.
Retour vers haut de page / Return to the top of the page

NAME

mau means "cat" in Egypt

SIZE

The body, of medium height, must appear both powerful, elegant and graceful. The musculature is developed, especially in males. A kind of pouch is called "gusset" must be present.

WEIGHT

ORIGIN

CHARACTER

The Egyptian Mau is independent and intelligent while being moderately active. It is lively and playful. It's not a nervous or aggressive cats.

CARACTERISTICS

Cat close to his master, he demands attention and can be aloof with strangers. It is sociable with other dogs. He's a good fighter. He needs exercise to keep a balanced character. A garden (secured) may allow it to spend. If this is the case, a domestic cat tree can absolutely do the trick. For it is a cat that can live in an apartment under condition that takes care of him. His meow is mild and pleasant. He hates loneliness.

The Egyptian Mau is the only naturally spotted breed of domestic cat: size of spots and form variables, randomly arranged on the whole body and forming two rows on the belly of "vest buttons."

COAT : colours

The coat is fine and silky. Scratches are emerging at the ends. An "M" appears on the front.

Four colors are accepted: the silver (silver gray speckled black); bronze (light brown mottled dark brown to black); the black smoke (black ghost spots with silver highlights) and finally the black marks where the "ghost", black on a black background, are sometimes visible in certain lights.

EYES : colours

The eyes are large, almond-shaped and set slightly slanted. Possible colors: light green, green gooseberry. Amber is permitted for children under 18 months.

STANDARDS DE RACE DE DIFFERENTES FEDERATIONS
BREED STANDARDS OF DIFFERENT FEDERATIONS
STANDARD LOOF ( France ) :
STANDARD NOK ( Pays-Bas, Nederlands ) :

cliquez ici / click here
STANDARD WCF :

cliquez ici /

click here /

klicken Sie hier
STANDARD TICA :



(choice your language on left top on the their web page) :
STANDARD FIFE :



cliquez ici / click here / klicken Sie hier
RETOUR MENU DES RACES : cliquez ici
Retour vers haut de page / Return to the top of the page
WebMaster & CatLover : jean-luc roffredo