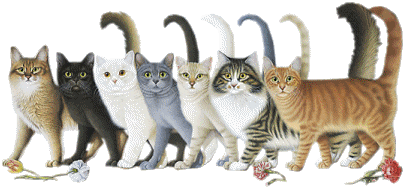 FICHE DE RACE
SHEETS BREEDS
ILLUSTRATIONS : CLIQUEZ ICI
TEXTE FRANCAIS : CLIQUEZ ICI
ENGLISH VERSION : CLICK HERE
STANDARDS DE RACE DE DIFFERENTES FEDERATIONS
BREED STANDARDS OF DIFFERENT FEDERATIONS
PHOTOS / PICTURES / ILLUSTRATIONS
le LAPERM long hair,

LAPERM LH
le LAPERM short hair,

LAPERM SH

PHOTOS TRES PROCHAINEMENT

PICTURES VERY SOON
Un tout grand merci aux éleveurs qui m'ont envoyés et permis d'afficher sur ce site leurs propres photos de chats de race provenant de leurs chatteries.

Ces photos ne peuvent en aucun cas être copiées et ni utilisées sans l'accord expresse et écrit de l'éleveur.

A big thank to all the breeders who sent me and allowed to post on this site their own photos breed cats from their omn catteries.

These photos can not in any case be copied nor used without the express written consent of the breeder.

NOM

LAPERM

ORIGINE

COMPLEMENT D'INFO TRES PROCHAINEMENT

CARACTERISTIQUES

CARACTERE

Chat affectueux et doux. C'est un calme à la voix douce. c'est un chat calme et équilibré, ni passif ni exubérant. Il ne supporte pas l'indifférence et encore moins la solitude.

Sociable avec ses congénaires et les chiens. Il s'adapte bien à la vie en famille et en appartement. Il est bon compagnon de jeux pour les enfants. Mais il aime aussi la paix et la tranquilité.

Son entretien nécessite un brossage quasi quotidien en période de mue, mais hebdomadaire en temps normal.
Retour vers haut de page / Return to the top of the page

NAME

LAPERM

ORIGIN

MORE INFORMATIONS VERY SOON

CARACTERISTICS

CHARACTER

Loving and gentle cat. It is a quiet, soft-spoken. it is a calm and balanced cat or liabilities or exuberant. He can not stand indifference and even less loneliness.

Congénaires and sociable with dogs. It adapts well to family life and apartment. It is good playmate for children. But he also likes the peace and tranquility.

Its maintenance requires an almost daily brushing moulting, but in normal times weekly.

STANDARDS DE RACE DE DIFFERENTES FEDERATIONS
BREED STANDARDS OF DIFFERENT FEDERATIONS
STANDARD LOOF ( France ) :
STANDARD NOK ( Pays-Bas, Nederlands ) :

cliquez ici / click here
STANDARD WCF :

cliquez ici /

click here /

klicken Sie hier
STANDARD TICA :



(choice your language on left top on the their web page) :
STANDARD FIFE :



cliquez ici / click here / klicken Sie hier
RETOUR MENU DES RACES : cliquez ici
Retour vers haut de page / Return to the top of the page
WebMaster & CatLover : jean-luc roffredo