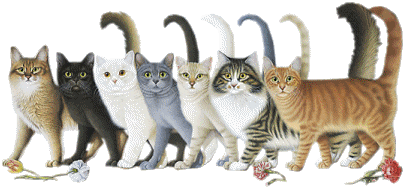 FICHE DE RACE
SHEETS BREEDS
ILLUSTRATIONS : CLIQUEZ ICI
TEXTE FRANCAIS : CLIQUEZ ICI
ENGLISH VERSION : CLICK HERE
STANDARDS DE RACE DE DIFFERENTES FEDERATIONS
BREED STANDARDS OF DIFFERENT FEDERATIONS
PHOTOS / PICTURES / ILLUSTRATIONS
le KORAT, Si-Sawat et porte-bonheur

the KORAT, Si-Sawat and lucky charm

KORAT_femelle

photos prochainement

pictures soon
Un tout grand merci aux éleveurs qui m'ont envoyés et permis d'afficher sur ce site leurs propres photos de chats de race provenant de leurs chatteries.

Ces photos ne peuvent en aucun cas être copiées et ni utilisées sans l'accord expresse et écrit de l'éleveur.

A big thank to all the breeders who sent me and allowed to post on this site their own photos breed cats from their omn catteries.

These photos can not in any case be copied nor used without the express written consent of the breeder.

NOM

TAILLE

Sa taille est petite à moyenne. La musculature est puissante, l' allure est souple et équilibrée : ni trop compacte, ni trop svelte.

POIDS

Mâle : de 4 à 5 kg ; femelle : de 2 à 4 kg

ORIGINE

Siam (ancienne Thaïlande)

CARACTERE

Le korat est extrêmement fidèle, hypersensible et montre un fort attachement à son propriétaire. C'est un chat très communicatif qui possède une large panoplie de miaulements, et il n'hésite pas à l' utiliser pour s'exprimer.

en sa COMPAGNIE

le korat est calme, peu destructeur, et s'adapte à la vie en appartement. Le korat n'est pas très sociable avec ses congénères et se montre réservé vis-à-vis des étrangers.

Il démontre un vif intérêt pour le jeu durant toute sa vie et son intelligence lui permet d'apprendre rapidement de petits tours. Le korat réclame beaucoup d'amour et d'attention. Il mérite son surnom de « chat-chien ». Cependant, le korat est casanier, il n'aime ni la foule ni l'agitation ni le bruit. Il a besoin d'un environnement serein.

CARACTERISTIQUES

Ce chat de petite taille est caractérisé par sa robe à poils courts.

ROBES : couleurs

Poils courts, fin, lustré et serré. Absence de sous poil. Son unique couleur est le bleu ( " bleu aux pointes d'argent " ( Silver Tipped Blue ).

YEUX : couleurs

Les yeux sont grands, ronds, bien espacés et légèrement inclinés. Leur couleur est le vert lumineux. Avant d'arriver à leur couleur définitive, ceci plus ou moins à l'âge de deux ans, on accepte la couleur ambre chez les jeunes éléments.
Retour vers haut de page / Return to the top of the page

NAME

SIZE

Its size is small to medium. The musculature is powerful, the look is soft and balanced, neither too thick nor too slim.

WEIGHT

Male: from 4 to 5 kg; female: from 2 to 4 kg

ORIGIN

Siam (old Thailand)

CHARACTER

The Korat is extremely loyal, hypersensitive and shows a strong attachment to its owner. It is a very communicative cat that has a wide variety of meowing, and he does not hesitate to use it to express themselves.

CARACTERISTICS

the Korat is quiet, little destructive, and adapts to apartment life. The Korat is not very sociable with other dogs and has reservations for foreigners.

He has a strong interest for the game throughout his life and intelligence allows him to quickly learn little tricks. The Korat requires a lot of love and attention. It deserves its nickname of "dog-cat". However, the Korat is a homebody, he does not like crowds or bustle or noise. He needs a serene environment.

This small cat is characterized by its short hair dress.

COAT : colours

Short hair, fine, glossy and tight. Absence of undercoat. His only color is blue ("blue silver spikes" (Silver Tipped Blue).

EYES : colours

The eyes are large, round, well spaced and slightly inclined. Their color is bright green. Before reaching their final color, this more or less at the age of two years, we accept the amber youth elements.

STANDARDS DE RACE DE DIFFERENTES FEDERATIONS
BREED STANDARDS OF DIFFERENT FEDERATIONS
STANDARD LOOF ( France ) :
STANDARD NOK ( Pays-Bas, Nederlands ) :

cliquez ici / click here
STANDARD WCF :

cliquez ici /

click here /

klicken Sie hier
STANDARD TICA :



(choice your language on left top on the their web page) :
STANDARD FIFE :



cliquez ici / click here / klicken Sie hier
RETOUR MENU DES RACES : cliquez ici
Retour vers haut de page / Return to the top of the page
WebMaster & CatLover : jean-luc roffredo