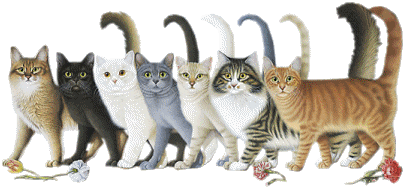 FICHE DE RACE
SHEETS BREEDS
ILLUSTRATIONS : CLIQUEZ ICI
TEXTE FRANCAIS : CLIQUEZ ICI
ENGLISH VERSION : CLICK HERE
STANDARDS DE RACE DE DIFFERENTES FEDERATIONS
BREED STANDARDS OF DIFFERENT FEDERATIONS
PHOTOS / PICTURES / ILLUSTRATIONS
le SCOTTISH FOLD, le HIGHLAND FOLD,

des chats très chouettes
Un tout grand merci aux éleveurs qui m'ont envoyés et permis d'afficher sur ce site leurs propres photos de chats de race provenant de leurs chatteries.

Ces photos ne peuvent en aucun cas être copiées et ni utilisées sans l'accord expresse et écrit de l'éleveur.

A big thank to all the breeders who sent me and allowed to post on this site their own photos breed cats from their omn catteries.

These photos can not in any case be copied nor used without the express written consent of the breeder.

NOM

SCOTTISH FOLD / HIGHLAND FOLD

La variété du scotish fold à poils mi-longs est appelée highland fold.

ORIGINE

CARACTERISTIQUES

Le Scottish Fold et le Highland Fold sont des chats de taille moyenne à grande, dont le corps est large, musclé, massif et trapu mais tout en rondeur.

Le poids varie entre 2,5 kg et 6 kg

Chats qui se caractérisent par des oreilles repliées vers l'avant ( fold signifiant « pli » en anglais ).Les plis sont dirigés vers l'avant en "casquette". Single fold (pliure à moitié de l'oreille) ; Double fold (pliure complétement applaties sur la tête).

Afin d' éviter tout problème lié au gène fold (oreilles pliées), il est interdit de marier deux chats à oreilles pliées.

On peut voir apparaître des chats aux oreilles droites ; ceux-ci sont nommés Scottish Straight ou Highland Straight dans le cas d'un poil mi-long

Chez le Scottish Fold, la fourrure est courte, très dense et double avec un sous-poil épais.

Chez le Highland Fold, la fourrure est mi-longue et soyeuse avec un sous-poil épais.

Toutes les couleurs sont reconnues.

Les yeux sont grands et ronds. Leur couleur est en harmonie et conforme à la couleur de la robe.

CARACTERE

Les folds possèdent un tempérament calme et plutôt silencieux, mais ils sont toutefois très joueurs. Doux, très affectueux, ils adorent la vie de famille.

Ils apprécient beaucoup de pouvoir jouer avec leur propriétaire. Le scottish, ainsi que le highland, aiment également la compagnie de leurs semblables. Ils sont discrets car leur voix est douce.
Retour vers haut de page / Return to the top of the page

NAME

SCOTTISH FOLD / HIGHLAND FOLD

The variety of scotish fold half-long hair is called highland fold.

ORIGIN

CARACTERISTICS

The Scottish Fold and Highland Fold cats are medium to large in size, the body is broad, muscular, massive and stocky but well-rounded.

Weighing between 2.5 kg and 6 kg

Cats that are characterized by the ears folded forward .The folds are directed forward in "Hat". Single fold (ear half-fold); Double fold (fold completely flattened on the head).

To avoid any problems with the fold gene (folded ears), it is forbidden to marry two cats folded ears.

It may appear cats with straight ears; they are appointed Scottish Straight. Highland Straight or in the case of a semi-long hair

At the Scottish Fold, the coat is short, dense and double with a thick undercoat.

At the Highland Fold, fur is semi-long, silky with a thick undercoat.

All colors are recognized.

The eyes are large and round. Their color is consistent and in accordance with coat color.

CHARACTER

The folds have a rather calm and quiet temperament, they are however very players. Sweet, very affectionate, they love family life.

They appreciate a lot to play with their owner. The Scottish and the highland, also enjoy the company of others. They are discreet because their voice is soft.

STANDARDS DE RACE DE DIFFERENTES FEDERATIONS
BREED STANDARDS OF DIFFERENT FEDERATIONS
STANDARD LOOF ( France ) :
STANDARD NOK ( Pays-Bas, Nederlands ) :

cliquez ici / click here
STANDARD WCF :

cliquez ici /

click here /

klicken Sie hier
STANDARD TICA :



(choice your language on left top on the their web page) :
STANDARD FIFE :



cliquez ici / click here / klicken Sie hier
RETOUR MENU DES RACES : cliquez ici
Retour vers haut de page / Return to the top of the page
WebMaster & CatLover : jean-luc roffredo