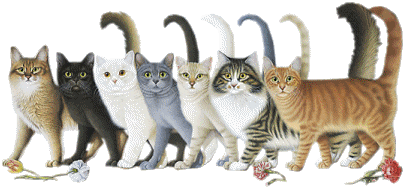 FICHE DE RACE
SHEETS BREEDS
ILLUSTRATIONS : CLIQUEZ ICI
TEXTE FRANCAIS : CLIQUEZ ICI
ENGLISH VERSION : CLICK HERE
STANDARDS DE RACE DE DIFFERENTES FEDERATIONS
BREED STANDARDS OF DIFFERENT FEDERATIONS
PHOTOS / PICTURES / ILLUSTRATIONS
l' EUROPEEN, à l'origine de tous les autres

the EUROPEAN, the origin of all other

EUROPEEN_calico

photos prochainement

pictures soon
Un tout grand merci aux éleveurs qui m'ont envoyés et permis d'afficher sur ce site leurs propres photos de chats de race provenant de leurs chatteries.

Ces photos ne peuvent en aucun cas être copiées et ni utilisées sans l'accord expresse et écrit de l'éleveur.

A big thank to all the breeders who sent me and allowed to post on this site their own photos breed cats from their omn catteries.

These photos can not in any case be copied nor used without the express written consent of the breeder.

NOM

EUROPEEN,

EUROPEAN Shorthair

Race dérivée du chat "domestique" commun (chat de maison ou de gouttière) par une sélection basée sur des critères esthétiques.

TAILLE

Son corps est musclé et souple de taille moyenne à grande (la différence de taille entre le mâle est la femelle est assez prononcée).

POIDS

ORIGINE

CARACTERE

L'européen est un chat rustique et actif, qui reste joueur tout au long de sa vie. Il est très affectueux et sociable. D'un caractère plus facile que le chat de gouttière. Affectueux, agréable à vivre. Il peut cohabiter avec d'autres chats ou même avec des chiens.

en sa COMPAGNIE

Il s'adapte facilement à de nouvelles situations. S'il dispose d'un jardin, il adore batifoler à l'extérieur car il apprécie la vie en plein air. Attention, c'est un chasseur redoutable !

CARACTERISTIQUES

Ce chat est connu pour être particulièrement résistant aux maladies.

ROBES : couleurs

Sa fourrure est courte, dense et lustrée, sans sous poil excessif. Toutes les robes sont reconnues sauf les colour point, lilas, faon, chocolat et cannelle.

YEUX : couleurs

Les yeux sont grands, espacés et espacés. Ils sont légèrement placés en oblique. Leur couleur (nette, pure ) est en harmonie à celle de la robe.

REMARQUE

ATTENTION : ne pas confondre l'Européen avec un chat de gouttière !
Retour vers haut de page / Return to the top of the page

NAME

EUROPEEN,

EUROPEAN Shorthair

Race-derived cat "domestic" common (house cat or trough) by a selection based on aesthetic criteria.

SIZE

His body is muscular and flexible medium to large (the size difference between the male is the female is quite pronounced).

WEIGHT

ORIGIN

CHARACTER

The european is a hardy and active cat, who remains player throughout his life. He is very affectionate and sociable. On the easier character that alley cat. Affectionate, pleasant. It can coexist with other cats or even dogs.

CARACTERISTICS

It adapts easily to new situations. If it has a garden, he loves frolicking outside because he enjoys outdoor life. Warning, this is a formidable hunter!

This cat is known to be particularly resistant to disease.

COAT : colours

His coat is short, dense and glossy, without under excessive hair. All dresses are accepted except the point color, lilac, fawn, chocolate and cinnamon.

EYES : colours

The eyes are large, and spaced apart. They are placed slightly obliquely. Their color (clear, pure) is in harmony with that of the caot.

REMARK

ATTENTION: Not to be confused with the European alley cat!

STANDARDS DE RACE DE DIFFERENTES FEDERATIONS
BREED STANDARDS OF DIFFERENT FEDERATIONS
STANDARD LOOF ( France ) :
STANDARD NOK ( Pays-Bas, Nederlands ) :

cliquez ici / click here
STANDARD WCF :

cliquez ici /

click here /

klicken Sie hier
STANDARD TICA :



(choice your language on left top on the their web page) :
STANDARD FIFE :



cliquez ici / click here / klicken Sie hier
RETOUR MENU DES RACES : cliquez ici
Retour vers haut de page / Return to the top of the page
WebMaster & CatLover : jean-luc roffredo