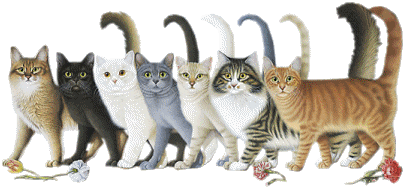 FICHE DE RACE
SHEETS BREEDS
ILLUSTRATIONS : CLIQUEZ ICI
TEXTE FRANCAIS : CLIQUEZ ICI
ENGLISH VERSION : CLICK HERE
STANDARDS DE RACE DE DIFFERENTES FEDERATIONS
BREED STANDARDS OF DIFFERENT FEDERATIONS
PHOTOS / PICTURES / ILLUSTRATIONS
le CORNISH REX, le chat lévrier

the CORNISH REX, the greyhound cat

photos prochainement

pictures soon
Un tout grand merci aux éleveurs qui m'ont envoyés et permis d'afficher sur ce site leurs propres photos de chats de race provenant de leurs chatteries.

Ces photos ne peuvent en aucun cas être copiées et ni utilisées sans l'accord expresse et écrit de l'éleveur.

A big thank to all the breeders who sent me and allowed to post on this site their own photos breed cats from their omn catteries.

These photos can not in any case be copied nor used without the express written consent of the breeder.

NOM

CORNISH REX,

Rex de Cornouailles

TAILLE

Le Cornish Rex est de taille moyenne. L'ossature est fine à très fine. Le dos est arqué.

POIDS

de 2,5 à 4,5 kg.

ORIGINE

Angleterre

CARACTERE

Le cornish rex est un chat très sociable qui déteste la solitude. Il apprécie la compagnie d'autres chats et de chiens. Il est vif, remuant, acrobate et très joueur. Il est aussi affectueux et sensible, constamment en quête de caresses et d'attention. Le cornish rex est très bavard et il s'exprime d'une voix perçante.

Il est habituellement très attaché à son maître et est un véritable pot de colle. Il s'adapte très facilement à la vie d'appartement. Par ailleurs, il déteste le froid.

CARACTERISTIQUES

La silhouette du cornish rex pourrait faire penser à celle du Lévrier. Son corps est celui de l'oriental, long, fin avec le dos arqué. L'ossature est très fine mais pas pour autant fragile. C'est la race ayant les os les plus fins parmi tous les félins.

La fourrure, typique du cornish rex, est douce, courte et crantée et donne une impression de vagues sur la fourrure (comme de l'astrakan ). Les moustaches, bien que souvent courtes, doivent être présentes. Toutes les couleurs de robe et d' yeux sont acceptées

La variété à poils mi-longs du cornish rex est le californian rex.

ROBES : couleurs

Son pelage est court , dense, frisé en ondulations régulières sur tout le corps. Il donne une grande finnesse et une douceur extrême rappelant le satin ou la soie. Toutes les couleurs sont reconnues.

La variété avec le motif colour point est appelée : SI-REX.

YEUX : couleurs

Les yeux sont moyens à grands, de forme ovale légèrement placés en biais. Leur couleur ( lumineuse, nette et pure) est conforme à celle de la robe.
Retour vers haut de page / Return to the top of the page

NAME

SIZE

The Cornish Rex is medium sized. The skeleton is fine to very fine. The back is arched.

WEIGHT

2.5 to 4.5 kg.

ORIGIN

England

CHARACTER

The cornish rex is a very sociable cat who hates loneliness. He enjoys the company of other cats and dogs. It is crisp, stirring, acrobat and very playful. It is also affectionate and sensitive, constantly looking for caresses and attention. The cornish rex is very talkative and he speaks in a shrill voice.

CARACTERISTICS

It is usually very attached to his master and is a real pot of glue. It adapts easily to apartment living. Moreover, he hates the cold.

The silhouette of cornish rex might suggest that of the Greyhound. His body is that of oriental, long, thin with back arched. The framework is very fine but not much fragile. It is the race having the finest among all felines bone.

The fur, typical of cornish rex, is soft, short and notched and gives a vague impression on fur (as astrakhan). The whiskers, though often short, must be present. All coat colors and eyes are accepted

Variety half long hair cornish rex is the californian rex.

COAT : colours

His coat is short, dense, curled in regular waves throughout the body. It gives great Finnesse and extreme softness recalling satin or silk. All colors are recognized.

The variety with the point color pattern is called : SI-REX.

EYES : colours

The eyes are medium to large, oval placed slightly skewed. Their color (bright, clear and pure) is consistent with that of the coat.

STANDARDS DE RACE DE DIFFERENTES FEDERATIONS
BREED STANDARDS OF DIFFERENT FEDERATIONS
STANDARD LOOF ( France ) :
STANDARD NOK ( Pays-Bas, Nederlands ) :

cliquez ici / click here
STANDARD WCF :

cliquez ici /

click here /

klicken Sie hier
STANDARD TICA :



(choice your language on left top on the their web page) :
STANDARD FIFE :



cliquez ici / click here / klicken Sie hier
RETOUR MENU DES RACES : cliquez ici
Retour vers haut de page / Return to the top of the page
WebMaster & CatLover : jean-luc roffredo