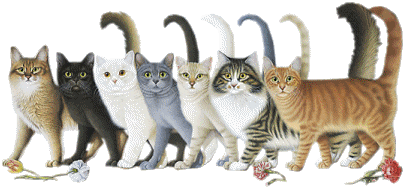 FICHE DE RACE
SHEETS BREEDS
ILLUSTRATIONS : CLIQUEZ ICI
TEXTE FRANCAIS : CLIQUEZ ICI
ENGLISH VERSION : CLICK HERE
STANDARDS DE RACE DE DIFFERENTES FEDERATIONS
BREED STANDARDS OF DIFFERENT FEDERATIONS
PHOTOS / PICTURES / ILLUSTRATIONS
le BOMBAY, la panthère noire

BOMBAY, Black Panther

BOMBAY , femelle
Un tout grand merci aux éleveurs qui m'ont envoyés et permis d'afficher sur ce site leurs propres photos de chats de race provenant de leurs chatteries.

Ces photos ne peuvent en aucun cas être copiées et ni utilisées sans l'accord expresse et écrit de l'éleveur.

A big thank to all the breeders who sent me and allowed to post on this site their own photos breed cats from their omn catteries.

These photos can not in any case be copied nor used without the express written consent of the breeder.

NOM

BOMBAY

le BOMBAY est issu du croisement entre une Burmese zibeline et un American shorthair noir aux yeux cuivrés.

TAILLE

Le bombay est un chat élégant, de taille moyenne, au corps musclé et possédant un squelette massif.

POIDS

de 2,5 à 5 kg

ORIGINE

Etats-Unis

CARACTERE

Le bombay est un chat au caractère stable et affectueux. Chat sûr dde lui, actif et joueur. Il est moins bavard que le Burmese. Son miaulement est un peu rauque.

en sa COMPAGNIE

ce chat est d'humeur assez égale et fait un compagnon agréable toujours présent sans être envahissant. Le bombay est très facile à vivre car il est très sociable et il adore la compagnie mais ne supporte pas la solitude. Il supporte bien la ompagnie d'un chien mais n'est pas très patient avec ses congénères.

CARACTERISTIQUES

allure de panthère noire aux yeux cuivrés

ROBES : couleurs

uniquement le noir. Pratiquement pas de sous poil. La texture rappelle le satin.

YEUX : couleurs

Grands, ronds, bien espacés. Brillants, vifs, cuivre à doré. Le cuivre est préféré.
Retour vers haut de page / Return to the top of the page

NAME

BOMBAY

BOMBAY comes from the cross between a sable Burmese and a black American shorthair with copper eyes.

SIZE

The bombay is an elegant cat, of medium height, with a muscular body and having a massive skeleton.

WEIGHT

from 2.5 to 5 kg

ORIGIN

United States

CHARACTER

The Bombay cat is a stable and affectionate. Chat dde him safe, active and playful. It's less talkative than the Burmese. His meow is a little hoarse.

CARACTERISTICS

this cat is pretty even-tempered and makes a pleasant companion always present without being overbearing. The bombay is very easy to live because it is very sociable and loves the company but can not stand alone. It supports well OMPANY a dog but is not very patient with other dogs.

Black Panther pace with coppery eyes

COAT : colours

only black. Virtually no undercoat. The texture reminds satin.

EYES : colours

Large, round, well spaced. Bright, lively, copper gold. Copper is preferred.

STANDARDS DE RACE DE DIFFERENTES FEDERATIONS
BREED STANDARDS OF DIFFERENT FEDERATIONS
STANDARD LOOF ( France ) :
STANDARD NOK ( Pays-Bas, Nederlands ) :

cliquez ici / click here
STANDARD WCF :

cliquez ici /

click here /

klicken Sie hier
STANDARD TICA :



(choice your language on left top on the their web page) :
STANDARD FIFE :



cliquez ici / click here / klicken Sie hier
RETOUR MENU DES RACES : cliquez ici
Retour vers haut de page / Return to the top of the page
WebMaster & CatLover : jean-luc roffredo