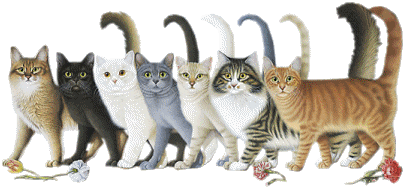 FICHE DE RACE
SHEETS BREEDS
ILLUSTRATIONS : CLIQUEZ ICI
TEXTE FRANCAIS : CLIQUEZ ICI
ENGLISH VERSION : CLICK HERE
STANDARDS DE RACE DE DIFFERENTES FEDERATIONS
BREED STANDARDS OF DIFFERENT FEDERATIONS
PHOTOS / PICTURES / ILLUSTRATIONS
ANGORA TURC / TURKISH ANGORA

angora_turc_black&white

angora_turc_black-silver-mackerel-tabby-et-blanc

angora_turc_black-smoke-et-blanc

angora_turc_blanc

angora_turc_red-silver-et-blanc

angora_turc_red-mackerel-tabby

angora_turc_brown-tabby-et-blanc-van

angora_turc_tortie-smoke
Un tout grand merci aux éleveurs qui m'ont envoyés et permis d'afficher sur ce site leurs propres photos de chats de race provenant de leurs chatteries.

Ces photos ne peuvent en aucun cas être copiées et ni utilisées sans l'accord expresse et écrit de l'éleveur.

A big thank to all the breeders who sent me and allowed to post on this site their own photos breed cats from their omn catteries.

These photos can not in any case be copied nor used without the express written consent of the breeder.

NOM

ORIGINE

CARACTERISTIQUES

Ce chat est caractérisé par sa robe à poils mi-longs très soyeuse et sans sous-poils, et une silhouette fine qui le classe dans la catégorie des chats foreign comme l'abyssin ou le bleu russe. Race de chat très ancienne, l'angora turc est à l'origine de l'ensemble des races à poils longs (persan) et mi-longs (norvégien, maine coon, etc.) présents en Europe et en Amérique.

Race naturelle ayant connu un très grand succès au XVIIIe siècle, ce chat de taille moyenne est actuellement encore peu connu, malgré de grandes qualités esthétiques et de caractère.

CARACTERE

L'angora turc est un chat affectueux, vif et intelligent. Extrêmement joueur il le reste toute sa vie et est donc apprécié par les enfants et les personnes qui recherchent un chat/chien. Sportif, c'est un excellent chasseur.

Affectueux et proche de l'homme, il supporte mal la solitude et a besoin de participer à la vie de la maison en étant présent à côté de son maître. De nature assez bavarde, et dispose d'une gamme assez variée de miaulements pour exprimer ses différentes humeurs. Ces traits de caractère restent toutefois parfaitement individuels et sont en fonction de l'histoire de chaque chat.

Il demande à être manipulé avec douceur car vif et d'un caractère assez marqué, il déteste être forcé. Toutefois, intelligents, et disposés à plaire à leur maître, ce sont des chats qui s'éduquent facilement et qui sont utilisés dans les cirques pour les numéro d'adresse. Il s'adapte très bien à ses congénères et aux autres animaux avec qui il appréciera de jouer. C'est un chat très équilibré qui aimera partager la vie d'une famille avec enfants et activités diverses. C'est pourquoi certains l'appelle le chat/chien.
Retour vers haut de page / Return to the top of the page

NAME

ORIGIN

SPECIFICATIONS

This cat is characterized by its dress medium-length hair very silky and without sub-hair, and a slim silhouette which ranks in the category of the Abyssinian cats as foreign or Russian blue. Ancient breed of cat, the Turkish Angora is behind all longhaired breeds (Persian) and mid-long (Norwegian, maine coon, etc.) present in Europe and America.

Natural breed that experienced great success in the eighteenth century, this medium sized cat is currently little known, despite great aesthetic qualities and character.

CHARACTER

The Turkish Angora cat is an affectionate, lively and intelligent. It remains extremely player all his life and is enjoyed by children and people looking for a cat / dog. Sports is an excellent hunter.

Affectionate and close to the man, he can not bear the loneliness and need to participate in the life of the house being present next to his master. Quite talkative, and has a fairly wide range of meowing to express different moods. These traits, however, remain perfectly individual and are based on the history of each cat.

It needs to be handled gently because of a fairly sharp and strong character, he hates being forced. However, intelligent and willing to please their master, they are cats who educate easily and that are used in circuses for address number. It fits very well with other dogs and other animals with whom he will enjoy playing. It is a very balanced cat who loves to share the life of a family with children and other activities. This is why some call him the cat / dog.

STANDARDS DE RACE DE DIFFERENTES FEDERATIONS
BREED STANDARDS OF DIFFERENT FEDERATIONS
STANDARD LOOF ( France ) :
STANDARD NOK ( Pays-Bas, Nederlands ) :

cliquez ici / click here
STANDARD WCF :

cliquez ici /

click here /

klicken Sie hier
STANDARD TICA :



(choice your language on left top on the their web page) :
STANDARD FIFE :



cliquez ici / click here / klicken Sie hier
RETOUR MENU DES RACES : cliquez ici
Retour vers haut de page / Return to the top of the page
WebMaster & CatLover : jean-luc roffredo